For Aaron Johnson, living the dream means catering Mongolian Barbecue-style stir-fry over a 600+ degree griddle. We are happy to support that!
The luncheon brought Aaron's passion for cooking and natural showmanship to the forefront. A 90-degree high temp for the sunny July day couldn't keep him from singing and entertaining as he cooked.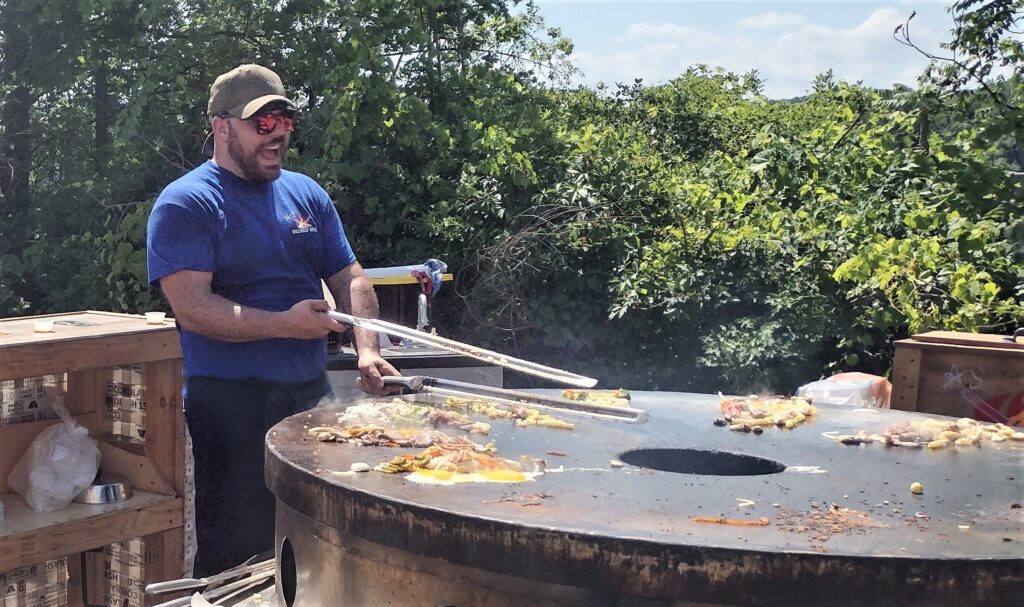 The food was outstanding.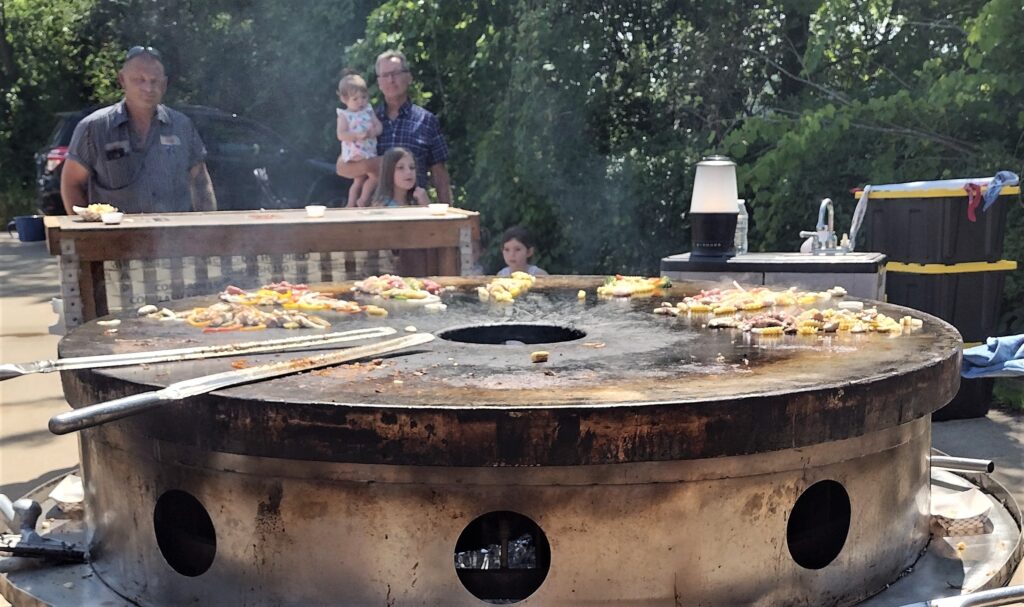 Beyond the grill: A mill operator with a knack for optimization
In the shop, Aaron optimized the Hurco mill for quick setup time and high run capacity. He specializes in 5S — a methodology of workplace organization that results in clean, safe, and efficient workspaces.
His overhaul of the mill was extensive — including job-specific setup boxes, a precisely organized and labelled tooling cabinet, and a fixture plate within the mill that allows the operator to quickly make and change setups.
"The end result is that most of the tooling an operator needs to set up and run the machine is within 2 feet of the main work area," said operations manager John Bogardus.
This speeds up setup and operation time. For instance, where the mill could once run five of a certain part per hour, now it can run eight. And the mill can now produce eight parts at a time where before it was limited to two — a big difference for a hand-loaded machine.
"He brought a lot of knowledge about mills to Micron and in turn he's learned a lot about lathes," Bogardus said.
The story of the grill
Aaron came by his stir-fry acumen by working at a Mongolian grill restaurant. When he saw a grill on auction, he found himself one of the only people to bid on it.
Transporting his winnings was another story. Aaron had to call in some favors, borrowing a trailer, a bobcat, and plywood boards for a makeshift ramp.
"The grill was basically the only thing I had in the beginning. I remember my first grad party the host let me use his trailer," Aaron said.
But he's since scaled up his operation, adding the stand-up tables, his own trailer, lots of tools, and a hand-crafted buffet table he and his dad built together.
AJ's Hillybilly Grill caters events for 50 people and up. They offer a customizable meal, where guests can choose from an array of meats, vegetables, seasonings and sauces, which are then cooked to order on the searing hot griddle. Also on the menu: a griddle-cooked mac and cheese that is fantastic.
Join our team
Micron is an inspired workplace crewed by passionate people. We have open positions for machinists and a clean and pack technician. Apply here if you are interested in living and promoting the American dream with us.